Administrative Professionals Day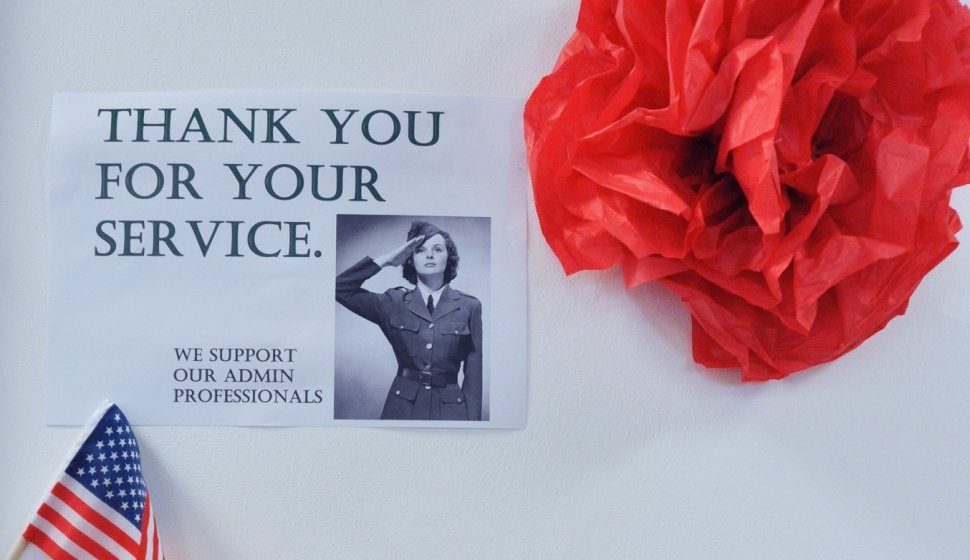 Administrative Professionals Day Dates in 2023, 2024 and 2025
Administrative Professionals Day is celebrated at the following dates:
Wednesday, April 26, 2023
Wednesday, April 24, 2024
Wednesday, April 23, 2025
Administrative Professionals Day is observed on the Wednesday during professional administrators week during the last full week of April. It recognizes the work of secretaries as well as other administrative support professionals.
Origin
Because of the post-World War II economic boom1coupled with the birth decline from the great depression2, there was a shortage of skilled administrative workers. In order to attract workers to the field, support personal development and to recognize contributions of administrative professionals to the economy, the National Secretaries Association was founded in 19423. The name of this association was changed in 1981 to Professional Secretaries international and later to the International Association of Administrative Professionals (IAAP) in 199845.
U.S. Secretary of Commerce Charles W. Sawyer first proclaimed National Secretaries Week on the week of June 1 through June 7 with that Wednesday, June 4 as National Secretaries day in 19526. The official date was moved to the last full week in April in 1955 with the Wednesday of that week designated as Administrative Professionals Day. In 2000, the name changed to Administrative Professionals Week to accommodate ever-expanding roles and functions in corporate administrative functions4. The week-long observance was made in order to space out bookings at restaurants or other venues where administrative professionals would be taken out7.
There has been some criticism towards Administrative Professionals Day. Administrative Professionals have sometimes been considered as support staff, separate from the rest of the office and is therefore considered patronizing by some7. It is sometimes difficult to understand who exactly gets recognized on Administrative Professionals Day, as some work requires more "administrative" rather than "secretarial" work7. The nature of gifts given on Administrative Professionals Day can imply a gendered role and some accuse the flower and card industry of inventing a holiday between Easter and Mother's Day to boost sales.
Celebration
Though not a public holiday, Administrative Professionals Day is generally celebrated by giving gifts of cards, flowers or chocolates as well as administrative professionals being taken out to lunch.